Santiago and Marcel
Appelstraße 11A, Raum 108, 30167 Hannover E-Mail: studyguide@maphy.uni-hannover.de
If you have questions, just ask us, the studyguides. Due to the Corona pandemic there are currently no visiting hours. Please contact us via e-mail.
---
There will also be a Meet & Greet on 13.10.2022 at 2 pm, there you can meet your fellow students and the Studyguides. Meeting: Main entrance of the Welfenschloss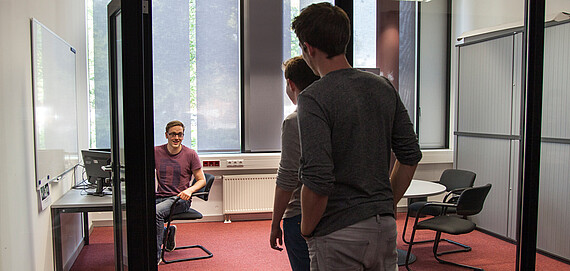 Dear Internationals,
welcome to the department of mathematics and physics! We are happy that you are part of our growing international student body.
The offer of the studyguides is directed towards you to make your start of studies in Germany easier and to help with emerging difficulties. The group of experienced students is on hand with help and advice for you, i.e. the start of planning your studies.
Study procedures during the corona pandemy
EMERGENCY SERVICES AND MEDICAL CARE
ours Due to the corona pandemy there are currently no visiting hours. Please contact us via e-mail!
FAQ´s
What is an oral exam?
A possible course is as follows:
Greeting by the examiner and possibly being offered a glass of water, small talk
Open starting question or self-chosen topic for a few minutes (-> Has to be discussed beforehand!)
Questioning part about few topics (-> Should also be discussed.)
Ending by the examiner, Leaving the room to wait for a few minutes
Announcement of the grade (Possibly question about self-assessment.)
The language as well as the length of the exam should be inquired before.
How does a bachelor thesis work?
A bachelor thesis normally takes two to four months. Upon registration, the deadline is announced. The registration only takes place following the topic assignment. Depending on the supervisor and topic, the length should be 20-40 pages. After getting a pass in the written thesis, follows an oral exam or a presentation of the results. The thesis module is awarded with 12-15 ECTS-points. (see also below)
How does a master thesis work?
A master thesis takes six months of full time work. (Sample calculation: 30 h / ECTS -> 900 h / semester, with 26 weeks at 34.6 hours and 8% leave entitlement this equals a 37-h week!) A topic is researched alone to the greatest extent. Prior the supervisor introduces and explains everything of interest and is naturally always open for further questions. (see also above)
Where do I get a master thesis?
By asking around among fellow students, asking lecturers and professors, for example those who offered the seminar, and visiting the institutes that are interesting to you, you can obtain information for possible master thesis topics.
What is a seminar?
A seminar normally is comprised of an introductory meeting, a homework and its presentation including an assessment. The seminar facilitator can also ask for a written paper or a handout.
A proseminar is identical with a seminar but directed topically towards younger students.
How do I get a Hiwi-Job?
You can get a Hiwi-Job by asking at the institutes, your fellow students (for example those who already have one) or by job postings. You can find the latter at the bill-boards of the institutes or on Stud.IP.
Usually an informal and rather short cover letter is expected, supplemented with the usual information like CV and certificates. Afterwards, there will be a more or less formal introduction meeting. It can be helpful to already get in touch before applying.